Safety Leader Workshop
Facilitated By Caterpillar Safety Services
To create a strong safety culture, you must address leadership behavior!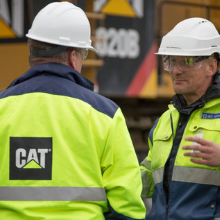 A transformational safety leader is one who has emerged as an effective leader because of how he/she interacts with others. The leader may or may not have a formal leadership title. People follow this type of leader voluntarily and passionately give their best every day.
Becoming a transformational safety leader requires mastery of four skills, or domains, revealed through the Safety Leadership Assessment (SLA) instrument. These four domains, along with fourteen elements of leadership-based safety, form the agenda for this dynamic, research-based experience. Participants begin to develop the four skills and leave with a personal safety leadership development plan they can put into practice immediately following the session.
WHAT WILL I LEARN?
Create a strong safety accountability system.
Create connectivity between safety, business operations, and employees.
Identify how to earn personal credibility with employees by demonstrating credible consciousness.
Build high levels of trust in business relationships.
Develop a personal action plan to improve safety leadership capability.
WHAT OUTCOMES WILL THE WORKSHOP PROVIDE?
This course provides supervisors and managers development in the four basic skills required to be a safety leader.

If they understand and refine four specific skills, your leaders will position themselves and your organization for safety excellence.
WHO WILL BENEFIT FROM THIS TRAINING?
Leaders at any level of an organisation that have direct reports.
HOW LONG DOES THIS COURSE RUN?
This is a one day workshop.
WHat will this cost?
The cost for this training is $199 per person (excluding GST)
DELIVERY METHOD?
Public and On-Site
WHERE CAN THIS TRAINING BE DELIVERED?
Australia-wide
About The Trainer | Jenny Krasny

Jenny has over 15 years of local and international consulting experience with some of the world's most respected mining, construction, engineering, and manufacturing organisations. She works in the areas of strategy development, culture change, safety culture, and leadership, change management, mentoring, executive coaching, and leadership development.

Topic: health and safety