The Science of Change Readiness: Accelerating Your Organisation's Readiness for Change
Industry Partners Australia is proud to host an interactive and exclusive event designed for Managers with Transformation Accountability
Delivery Method: Online Event
Date and Time: Thursday 19 August 2021 | 10am - 11am
Investment: Free
---
Overview
Is your organisation ready for change?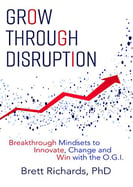 Successful transformation projects are grounded on the premise that in an era of accelerated change and disruption, stronger performance will hinge on having the right mindset and behaviours to drive alignment, change and growth.

Sadly, engagement surveys and qualitative culture assessments can tell only part of the story.

Join us and learn how to link people and culture to your P&L for top-line growth and bottom-line profitability!


During this webinar, participants will learn how to:
Link people and culture to profits, performance and growth

Quantify change readiness and measure return on investment in people

Manage constraints to growth, alignment and success

Link change readiness to the bottom line

Validate gut feelings about readiness for change

Apply new insights and practical tips to change management activities
Who Should Attend?
CEO's, General Managers and Professionals responsible for change within their organisations.
About the Presenter

BRETT RICHARDS, PhD
Developer of The Organizational Growth Indicator (OGI®) | Connective Intelligence Inc.
LinkedIn Profile
Developer of The Organizational Growth Indicator (OGI®)
Brett is the author of Grow Through Disruption: Breakthrough Mindsets to Innovate, Change and Win with the OGI®.
When do I need to register by?
Registrations close 2 days prior to the event date.
There are no member allocated seats at this event. Registrations are based on a "first-come, first-served" basis.
Who can I contact for further information?

Samantha Jeffrey
Send me an email
Ph: 0438 058 823
Feel free to share this event with your peers.