PART 5:

Value Stream Mapping to work on real bottlenecks and constraints.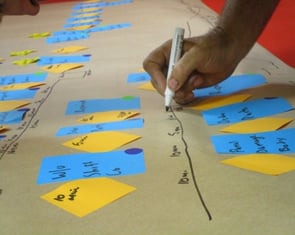 In your organisation is Value Stream Mapping embraced and supported as an ongoing process of review and improvement, or more as a one-off activity that is only performed now and again?
How well do teams in your organisation regularly and proactively analyse customer demand compared to process capability?
Do your Value Stream Maps include the analysis of information flow? All too often we see only a focus on material flow, but often understanding information flow can lead to the most impactful improvements.
How well does your Value Stream Mapping analysis rely on real data and scientific thinking to improve your customers' experiences?
Does everyone have a good understanding of the 7 wastes and use "relentless reflection" (Jeffrey Liker 2004) to find waste?
In Toyota, the word "troubleshooting" is used to describe the development of short term countermeasures, "problem solving" is used to eliminate repeat problems, "kaizen" is used for raising the production standard, and "Jishuken" is a concentrated kaizen effort or breakthrough event over 3 to 5 days often led by management or Continuous Improvement experts, and is usually focused at a value stream level.
Are you experiencing greater than 10% per annum improvements in productivity?

Are you seeing greater than 50% reductions in defects year on year?

How could you embed more deeply the thinking and the use of Value Stream Mapping in your business?
Please spend some time with your team colleagues reflecting on your organisation and how you could better use the fifth of our 7 ways to improve your Lean initiative – Value Stream Mapping.

Note: This is part 5 of 7 ways to improve the impact of your lean initiative. Stay tuned for part 6 being released next month. Feel free to contact Efficiency Works directly using the links below if you'd like to discuss all things LEAN.